yoga HikeLady Yoga, Superhero, is Laurie Searle's alter-ego. She is published monthly in LA Yoga Magazine, and syndicated nationally. If you would like to include Lady Yoga, Superhero in your Yoga or Fitness periodical, please contact Laurie.
To see a larger version of each comic, please click the image.
Check out Lady Yoga on Facebook.
2018
Yoga in Colorado informed me a lot about how to manage altitude, nutrition and fitness...wherever you are...if it's above sea level, take a deep breath in and enjoy!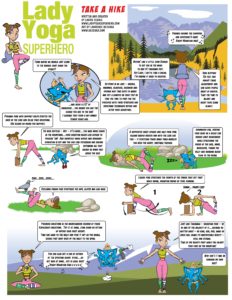 Yoga For Eating Disorders...
...is one that hits close to home.  For someone who has battled anorexia and myriad of associated eating disorders, it wasn't until I got the support and help that I needed to identify the triggers then return to my love of yoga to understand how it is such a great support and salve when the going gets tough and the triggers to negative behavior begin!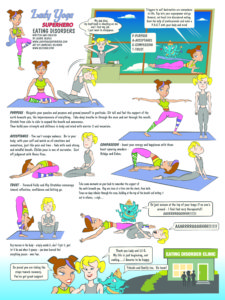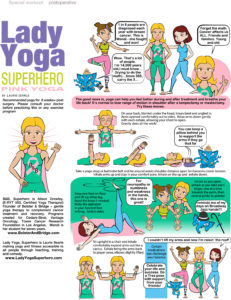 October 2016 - Lady Yoga Kicks Cancer
---

     March 2014 - First Response Yoga
---

     February 2014 - Yoga For The Face
---

     December 2013 - Keep Your Guard Up! Part Two
---

     November 2013 - Keep Your Guard Up! Part One
---

     October 2013 - Yoga with Weights, Part One
---

     September 2013 - Happy Hour at the Barre
---

 July/August 2013 - It's Cool to be Hot
---

     June 2013 - Summer Stretch for Two
---

     April 2013 - The Bee's Knees
---

     March 2013 - Lady of the Night...Club
---

     February 2013 - Undercover Yoga
---

     November 2012 - Working the Poles with Lady Yoga
---

     July 2012 - Relieve Stress With Malas
---

     June 2012 - Let the Music Move You
---

     May 2012 - Bud to Bloom
---

     April 2012 - Chakralyn
---

     December/January 2011 - Fear of Flying
---

     November 2011 - Healthy Hands and Wrists
---

     October 2011 - Yoga the Musical
---

     September 2011 - Family Fit Fete
---

     July/August 2011 - Yocation
---

      June 2011 - Mommy Tasking
---

     May 2011 - At Your Customer Service
---

     April 2011 - Health and Taxes
---

     March 2011 - Going the Distance
---

     February 2011 - Rock Star Keeps His Cool
---

     December 2010 - Bullying is a Big Deal
---

     November 2010 - Chores Are A Bore No More
---

     October 2010 - No Sweat Test Prep
---

     September 2010 - Freeway Freedom
---

     July/August 2010 - Lady on a Mission
---

     July/August 2010 - Lady Yoga - Premiere LA Magazine Cover
---

    Superhero Wellness Team