If you have ever wanted to get certified in teaching Yoga, now is the time.  Sign up for our small group or individual mentorship program beginning June 1st and running from 8-12 weeks.
Email Fireflylci@gmail.com for more information.
ALSO
We hiring teachers for the 2017 season at Firefly Yoga and Massage in Little Corn Island Nicaragua.
Email YogaAndFitnessToGo@gmail.com if you are available for 3 months or more to live in paradise, have fun and work living your dream!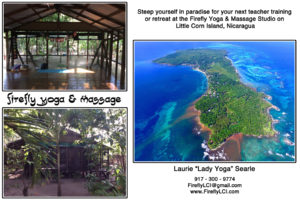 This entry was posted in