The stress of the day can melt away in minutes with massage. Laurie specializes in injury prevention, Structural Integration, Swedish (therapeutic) and Sports/Deep Tissue/Medical Massage and practices in clinics, homes, spas, resorts and Olympic Training Facilities around the world.
Laurie has been a massage therapist since 2014, starting her education at the Santa Monica Massage School. She completed an intense mentorship in New York City in 2018 with the renowned medical massage therapist and teacher, Howard Melmerstein. She completed 500 hours at Georgia Massage School in 2020. She is currently traveling around the globe working with her three time Olympic athlete, Yasu Hirai and the Japanese open water swim team, on the path to Tokyo, 2020.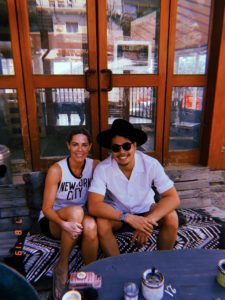 She is thrilled to use the amazing skills she's learned overseas, in Olympic training facilities and right here at home, with all types of people, to help them release stress, tension, pain and heal injuries in tandem with other therapy or recovery programs.
Reserve your spot today at 917.300.9774