Thinking Outside The Mat…
Laurie Searle (a.k.a. "Lady Yoga") is the owner of Firefly Yoga & Massage (formerly Yoga and Fitness To Go), is a nationally certified Yoga Therapist (IAYT),  licensed Massage Therapist (CMTC lic. 85236) has her own Prenatal and children's yoga school called 'Lil Fireflies' through the Yoga Alliance and also leads and co-leads teachers at the 200/300/500-hour level, in person, virtually and with other studios nationally and internationally.  She is the co-lead Yoga Teacher Trainer at Be Yoga in Marietta, Georgia and Tavoos Garden in Siem Reap, Cambodia. She is also a personal fitness trainer, weight management and nutrition specialist through the National Academy of Sports Medicine (NASM) and mat Pilates instructor.
Continuing education units with the Yoga Alliance in special populations, children's yoga, prenatal, post natal, teen yoga, yoga for anxiety and depression, yoga for seniors, yoga for at risk/troubled youth, yoga for mental illness.
She is the founder of F.E.D. (Fight Eating Disorders), a 501c3 humanitarian non-profit organization offering assistance for those suffering from eating disorders who are unable to afford medical support. A portion of all teacher trainings go toward the support of F.E.D.
Laurie is also the author of the self-published Comic book (E and Print), 'Superhero Yoga, Above And Beyond The Mat', teaching people how to tap into their inner superhero every day. 
Now and then, you can see her on TV as an actor and writer or onstage for a random 3 minutes around town making people laugh.  Thank you for visiting!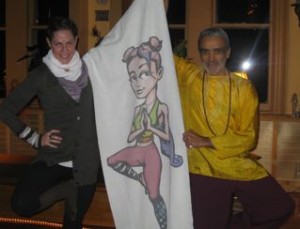 Laurie "Lady Yoga" & Sri Dharma Mittra, NYC
The Yoga - Laurie's had the honor of studying with Yogacharaya Shri K. Pattabhi Jois (Guruji), the father of Ashtanga Yoga in addition to Srivatsa Ramaswami (Vinyasa Krama).  She received her Yoga For Youth Certification with Krishna Kaur and studied intensively, the science of Ayurveda with Dr. Jay Apte, Mas Vidal and Arun Deva. 
She has worked with special populations including seniors, pre/post natal mommies, at-risk youth, and eating disordered/addiction recovery individuals, as well as top athletes from the Los Angeles Lakers, the Olympics and Oscar/Emmy award-winning actors.
The body, mind and spirit are Laurie's passion and joy.  It is her quest to make yoga and fitness accessible to all people, regardless of physical or schedule limitations. She loves to study, question, reflect, and share as much as she can, be it how to lose 20 pounds, or the proper way to train for your first 5K or Ultra-marathon.  She is continually learning from her students and grateful to be of service.
Testimonials
"The physical and mental benefits of practicing yoga are all boosted by being guided in a session with Laurie. She enters the room with a positive spirit, and is able to deliver either a restful, restorative session or a high-impact power burn hour. No session is like the last, which makes me anticipate her presence with pleasure. She is a joy to be with." - Sarah Bowman, mom and owner, KidsOffTheCouch.com
"Doing yoga privately with Laurie for the past 3 years has been the best gift I've given to myself. We work on strength, toning, balance, and flexibility. Laurie combines spiritual and physical fitness in just the right way. I can't imagine life without Laurie and my weekly yoga practice!" - Nathalie Kunin,TeamTutors.net
"I'm not the bendiest person in the world, but Laurie (and her alter ego - Lady Yoga) make practicing yoga doable and fun! She has an edgy personality and is down to earth and hysterical. She gives me moves that increase my flexibility AND confidence! Love her!!" - Rona Lewis
"Where do I even begin.... Lady Yoga not only knows her stuff, but she makes Yoga so much FUN! Her sense of humor and personality are absolutely infectious. I can't get through a session without laughing out loud, which is imperative if I'm going to be working out... She is so knowledgable about her craft and is just someone you want to be friends with. STRONGLY RECOMMENDED!" - Katie Sippel